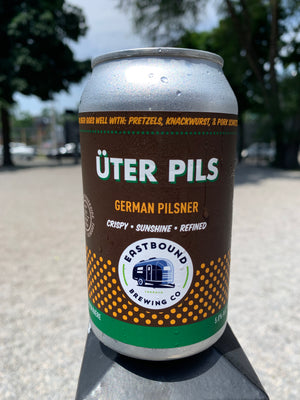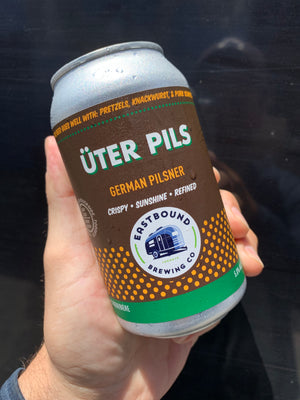 Product image 1

Product image 2

Üter Pils is our first foray into the world of lagers. Many have asked for them but few have known the time and space that's needed for them. When we finally were able to make one we wanted to do it right and reflect the old world brewing traditions that we respect so much at Eastbound.
Üter Pils is our nod to Old World pilsners, lovingly lagered for 8 weeks (how did we wait that long?!) and delicately hopped with noble hops, this beautiful beer has nothing to hide. Crisp and sharp with a full bodied malt backbone that has you coming back for another sip. Hallertau hops provide a lovely floral aroma with a tender bitterness that gives great balance.
Inspiration for this beer came from our Brewmasters time spent studying brewing in Germany. While learning the ins and outs of brewing technology he was also learning the ins and out of German beer halls. His hard work in both pursuits is now to your great benefit! Üter is our little gift to you, dear beer drinker. Welcome him into your homes, keep him cold and enjoy him immensely. Did that get a little weird? 
ABV: 5.0%
Smells & Tastes Like: Crispy, Sunshine & Old World
Food Pairing: Pretzels, Knackwurst & Pork Schnitzel