Locally Sourced & prepared with passion
We're proud of our Riverside roots and we want to share what makes our neighbourhood the best in the city.
From the bar stool-lined brewing operation, to the open concept farm-to-table kitchen we're a totally transparent operation. We want our guests to experience what we make here, so we let you see everything that goes into that passion. We can't wait for you to join us and find out.
Reserve a table
Book your party!
Private dinner? Work party? Buying out the whole place? Maybe a wedding reception? We do it all. Check out our events package and let's party!
Lear More
beer store on uber!
You can now order beer all on it's own from us and either have it delivered by Uber or pick it up yourself at Eastbound.
order now!
Weekly & Bi-Weekly Events
MONDAYS - RUN CREW
6:30PM - 8km / 6:45PM - 5km
Weekly run & social beers!
Every other TUESDAY - TRIVIA
6:45PM - 9:45PM
Test your smarts & win beer! Trivia happens every other week with prizes awarded to the winning team.
Spend a night @ home with Eastbound
We love seeing you in the pub! But for those times you can't make it out let us come to you. Uber, Ritual or call direct at 416-901-1299 to order for pickup.

Brewski of the Moment
Highlighting some of our favourite beers that are currently tickling our fancy.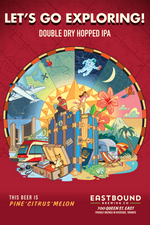 NOW IN 473 mL TALL CANS! Our staple IPA cleverly balances the tempered power and gentle nature of – say,...
Learn more
Mixed Cases - Help us, help you
Hours & Contact Info
700 Queen St. East
Toronto, ON M4M 1G9
(416) 901-1299
info@eastboundbeer.com
Retail & Taproom:
Monday: 12-9pm
Tue-Thu: 12-10pm
Friday: 12-11pm
Saturday: 10am-11pm
Sunday: 10am-10pm
Kitchen: (Dining & Takeout)
Monday: Kitchen taking a nap
Tue-Fri: Lunch & Dinner
Sat-Sun: Brunch & Dinner
Online Store: Always Open!