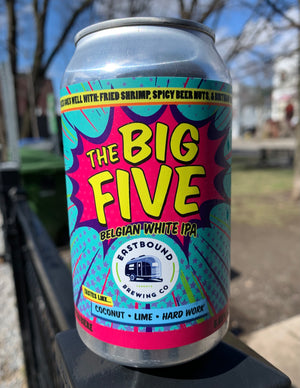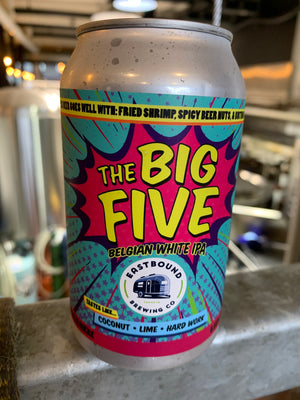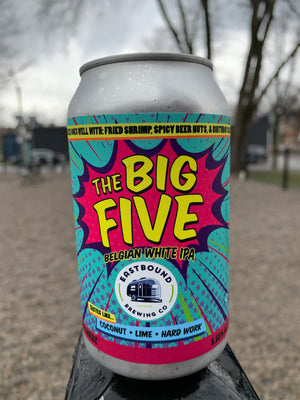 Product image 1

Product image 2

Product image 3

Brewed to celebrate 5 years of Eastbound Brewing Co! Celebrating all the staff, customers and great memories that have come through our doors over the last 5 eventful years.
The Big Five is a Belgian White IPA that's brewed with a wheat heavy malt bill that gives it a full body. It pours hazy and stays that way under a frothy head. Big amounts of lime peel, orange peel, toasted coconut and coriander were added in the whirlpool. El Dorado and Sabro hops were added in for the ride as well.
This brew is a great reflection of the work we've done for the last 5 years. It reflects our respect of Belgian beer tradition along with our mission to boost flavour and present an alternate spin on the classics. Belgian and aromatic along with new world hops that add that extra something special. It tastes of tropical fruit and adds that little bit of bitterness that reflects a beautiful IPA and also is a little nod to 5 years of running any small business! Cheers to YOU for the support and Cheers to us as well because it ain't been easy!
ABV: 5.55%
Smells & Tastes Like: Coconut, Lime & Hard Work
Food Pairing: Fried shrimp, spicy beer nuts & birthday cake!