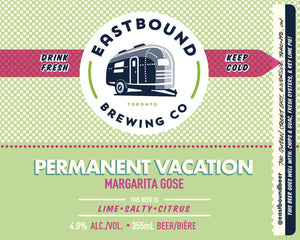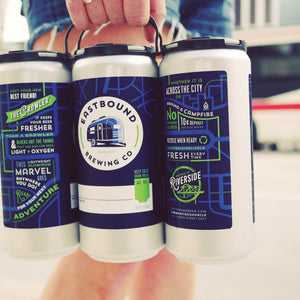 Product image 1

Product image 2

* If sold out these will be replenished shortly!
A touch of salt and a whole lot of lime sends you off into a Permanent Vacation with no need to come back to reality any time soon. Drift away and relax and take the summer in, we've done the hard work for you. Take a load off.

To make this little wonder - First, we made a traditional Gose sour with coriander and sea salt. Then we added orange peel and lime juice to bring the taste of margaritas to the party. The ultimate summer thirst quencher great for pairing with beach food and also amazing all on its own. The lower ABV keeps the party going and the touch of salt keeps you from searching for it... So be the ultimate party animal in the Hawaiian shirt and take everyone you know on a permanent vacation!

*no vacation included with said cans, vacation is implied and is up to the consumer to provide in practice or in theory.

ABV: 4.0%
Smells & Tastes Like: Lime, salt, could be your fault
Food Pairing: Guacamole, key lime pie, oysters


Meet the Crowler!
Meet your new best friend, The Crowler! This big ass aluminium can keep your beer fresher than a growler and blocks out the things that are bad for beer: light and oxygen. It's available for any Eastbound beers we're serving on tap, poured fresh from draught and sealed on demand right before your eyes!

This lightweight marvel goes anywhere you do, ready for your next adventure! Whether it's across the city or around a campfire. No broken glass or 10 cent deposit. Recycle when ready. Enjoyable. Reliable. Fresh. Every time.