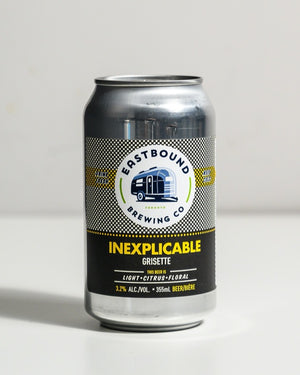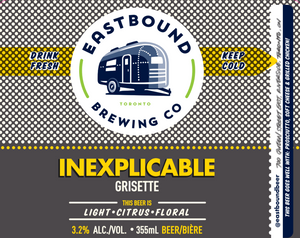 Product image 1

Product image 2

What exactly is a Grisette anyways?
Well here goes - A Grisette is a refreshing, low alcohol beer of Belgian origin. It's an offshoot of a Saison, a style we tend to enjoy, and it was believed to be brewed for workers in the local mines. "Grisette" translates as "little grey" and is thought to refer to the colour of the dresses the women wore who handed out the beer to the miners. Or maybe it was the colour of the stone itself? Or maybe it was just simply a name conjured up to confound people for generations? But here we are and you're asking me what it means and I'm telling you a big long story... But what about the beer?
Inexplicable Grisette is light, full of citrus and floral notes and an earth and spice backbone brought to you by the European hops and Belgian saison yeast. That's a lengthy description to tell you that it's a beer that's perfect for refreshment in any and every moment of your life that simply calls for refreshment. Whether it's the reward at the end of your day or the way to get through it, Inexplicable is here for you in your time of need - no lengthy explanation required.
ABV: 3.2%

Smells & Tastes Like: Lemon, touch of earthy spice, floral and  an Inexplicable predilection to Belgian beer

Food Pairing: Prosciutto, soft cheese & grilled chicken