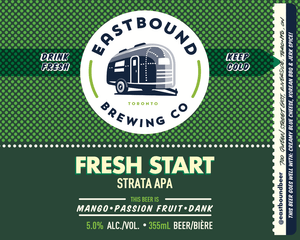 Product image 1

Product image 2

Fruit salad with a heavy helping of that dank, dank goodness. Fresh Start Strata gives you all that you're missing and all that you need. This once experimental hop hails from the Pacific Northwest - from the state of Oregon. Where people put a bird on it, enjoy knitting and love their beer hoppy!


ABV: 5.0%
Smells & Tastes Like: Mango, Passionfruit, Piney Dank Forest
Food Pairing: Creamy Blue Cheese, Korean BBQ & Jerk Spice
Fresh Start Series:
Fresh Start is our series of rotating American Pale Ales, each of which highlights an individual hop varietal. Keeping a single malt bill and a hop schedule focused entirely on whirlpool additions and dry-hopping, we're looking to bring out the most vibrant aromas and flavours possible. Hops deserve to be in their finest form for their moment in the sun. It's a great way for you to become acquainted with a growing list of our favourite friends.