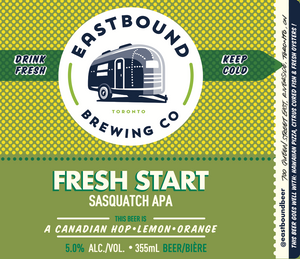 While taking a peaceful and contemplative stroll through the forest, as our brewing team often does, they happened to stumble upon a rather large figure that appeared to be home brewing. Unable to keep themselves from asking questions your brave brewing team inquired as to what the figure was brewing. Without any words, the figure just handed them a large number of hops, grunted and then disappeared into a deep and dark cave. Knowing better than to question it and knowing better than to follow said figure into the cave, your brewing heroes returned to the brewery to make use of their new gift. From this gift, we have produced Fresh Start Sasquatch APA.

Sasquatch is Canada's first patented and trademarked hop and is grown in BC. But besides being Canadian and having an awesome name it's also delicious! Strong aromas and flavours of watermelon jolly rancher and citrus bring a nice hoppy punch with this standout hop. It's a great beer to pair with food and a great beer to share with friends, cave dwellers or not.

ABV: 5.0%
Smells & Tastes Like: Canadian Hop, Lemon, Orange & Watermelon
Food Pairing: Hawaiian Pizza, Citrus Cured Fish & Fresh Oysters
Fresh Start Series:
Fresh Start is our series of rotating American Pale Ales, each of which highlights an individual hop varietal. Keeping a single malt bill and a hop schedule focused entirely on whirlpool additions and dry-hopping, we're looking to bring out the most vibrant aromas and flavours possible. Hops deserve to be in their finest form for their moment in the sun. It's a great way for you to become acquainted with a growing list of our favourite friends.