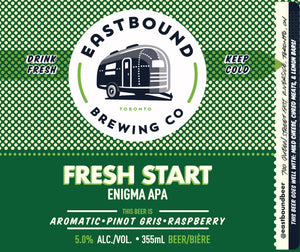 Enigma hops are rather mysterious, vexing… there's some other word for them… Anyway, these hops bring the pinot gris, raspberry and a little touch of the dank to the party. Straight from Australia, they bring that laid back, romantic vibe that really aren't we all searching for in a partner? And why not expect that in a beer? I mean a good beer can be your partner as well right? ENIGMATIC! That's the word! Much better.
ABV: 5.0%
Smells & Tastes Like: Pinot gris, raspberry, Australian confidence & confusing conversation
Food Pairing: Mild cheese, cured meats & lemon bars
Fresh Start Series
Fresh Start is our series of rotating American Pale Ales, each of which highlights an individual hop varietal. Keeping a single malt bill and a hop schedule focused entirely on whirlpool additions and dry-hopping, we're looking to bring out the most vibrant aromas and flavours possible. Hops deserve to be in their finest form for their moment in the sun. It's a great way for you to become acquainted with a growing list of our favourite friends.