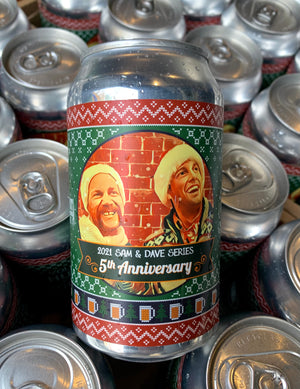 Product image 1
Product image 2

Every year at Christmas time we collaborate with our friends at Sawdust City Brewing Co. with our annual Sam & Dave Christmas Ale brew. 2021 marks our 5th anniversary of this wonderful tradition and we couldn't be happier about it. This year's edition of the Sam & Dave Christmas beer "You Got Me Hummin' for the Holidays" is a Farmhouse Christmas Ale. Brewed with a Saison/Kveik hybrid yeast called Jötunn, this is a special departure for our seasonal Christmas beer. Tons of melon/tropical fruit flavour come through from the Kveik end of things and some nice black pepper spice is prominent with the Saison contribution.

The beer is highly complex and opens up more and more with every sip as it warms, revealing more layers of flavour. Enjoy it this year fresh and it also has the fortitude to stand up for cellaring.

It's a beer made with soul and is for sharing with friends and enjoying through the holidays. It's a beer that's meant to welcome good times and help you through the bad. 
Merry Christmas everybody!
ABV: 8.5%
Smells & Tastes Like: Melon, Tropical Fruit with a touch of black pepper
Food Pairing: Duck confit, bread pudding & Christmas Merriment! 
Enjoy this brew even more with our Sam & Dave Christmas Ale Special Edition Tasting glasses. Check them out here.