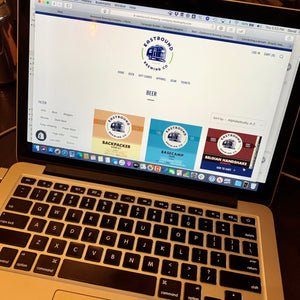 A gift card to use in our ONLINE STORE to put towards beer, Eastbound swag, tickets to events - whatever your dreams demand from you!
Give it to a friend or keep it for yourself - it's the gift that keeps on giving!


*This card is NOT for use in our brewpub
*THIS IS ONLY FOR USE IN THE ONLINE STORE ON THE INFORMATION SUPERHIGHWAY
*You will NOT be receiving a physical card in the mail. Only emails are sent out with the gift card code. This will need to be forwarded to the recipient. 
Helpful Notes
- Gift Cards do not expire!
- You will be sent an email with a Digital Gift Card Code that you use as your gift card. If you're buying this as a gift this is the email you forward to the lucky recipient.
- Can a gift card be used more than once?
Yes, provided there is still a balance remaining on the card.
- Can gift cards be reloaded?
No, you can't reload a gift card.
- Can more than one gift card be used towards a purchase?
Yes. You can redeem another gift card during checkout.
- Can a gift card be used to pay for shipping and taxes?
Yes, gift cards are applied to the final order total which includes shipping and taxes.
- Can gift cards be used in conjunction with a discount code?
Yes, gift cards are a form of payment.