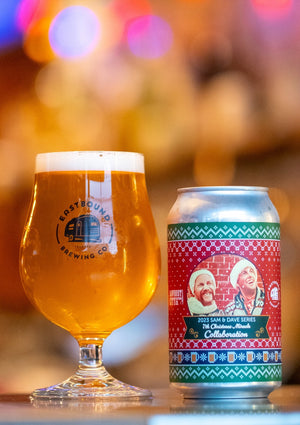 Every year at Christmas time we collaborate with our friends at Sawdust City Brewing Co. with our annual Sam & Dave Christmas Ale brew. 2023 marks our 7th anniversary of this wonderful tradition and we couldn't be happier about it. This year's edition of the Sam & Dave Christmas beer "Wrap it Up for the Holidays" is a Belgian Spiced Pear Saison!

This brew is the holiday party you always wanted but couldn't attend because, well, it's in a can. At 6.5% ABV, it's the perfect companion to accompany you on your festive adventures or to share a toast with friends and family as you trim the tree.

The stage is set with ginger, cinnamon, and a touch of pear juice concentrate, creating a flavor profile that's a medley of holiday delights. The ginger adds a zesty kick, like a lively elf doing a jig on your taste buds. Cinnamon? It's the cozy hug of a warm fireplace on a chilly winter's night. And the pear? That's the fruity guest who just rolled in with a sweet surprise, like finding an extra present under the tree..

So, this holiday season, let "Sam and Dave" be your joyful serenade. It's the taste of laughter, the sound of clinking glasses, and the spirit of togetherness all wrapped up in one delightful sip. Cheers to a saison that turns every occasion into a holiday!
Merry Christmas everybody!
ABV: 6.5%
Smells & Tastes Like: Gooseberry (think Sauvignon Blanc), ginger & all the Christmas joy!
Food Pairing: Roasted chicken, soft cheeses, holiday merriment!